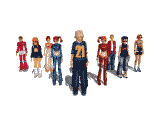 STARVIN MARVIN'S BIO
Starvin Marvin Is known for everything from comedy to musical performances. He has traveled throughout the United States performing in about 50 states and God only knows how many cities.   Starvin Marvin has appeared on stage and toured with national artists such as (The legendary) Mr. B.B. King, (Famous Drummer) James Gadson, Al Green, Luther Vandross, The O'Jays, Red Foxx, Millie Jackson, The Moments/Ray-Goodman & Brown, Alton, McClain & Destiny, Z.Z. Hill, Rudy Ray Moore, Billy Paul, Joe Simon, Saxophonist Eddie Harris, just to name a few of many artists.
Willie Leon Talk & Starvin Marvin
Starvin Marvin also has a foul mouthed Dummy named "WILLIE LEON TALK" Who takes no wooden nickels from any body but seems to give out more than Marvin can handle. Willie Talk is a sexual soul singer from the old school that causes women of all ages to just melt when they hear his low sexy voice belting out songs such as "One In A Million" by Larry Graham and "Feelings" by Morris Albert.
Marvin was born in Cleveland, Ohio just shy of being born in Greenville South Carolina when his parents relocated to Cleveland. He'll tell anybody he's a country boy at heart.   Marvin currently has a new CD entitled "Funk Me Up Marv" and a CD that was released in June of 2000, entitled "Um' Back" which has gotten airplay in the south on radio station W Q V E 105.5 FM in Albany, GA from well known jocks Jim Stevens and Superman.
Jim Stevens and Superman
All the songs on the CD are great party songs. And of course some have that Willie Leon Talk humor and profanity that their fans have come to know and love.
The newer CD is entitled: "Funk Me Up Marv" Has R&B/Funk/Ballets, that'll have you swinging in your seat where ever you are. The ballets are truly great and played and sang with beauty and perfection, that I can't explain in words.  The Funk Is Just To Funky!
Tracks are being started for a Re-Release of Starvin Marvin's 1989  Smooth Jazz Hit album: "Precious" Originally Recorded Analog Now Being Re-Recorded Totally Digital
(Model: Brenda Johnson)
Photo By: Rick Hampton
For people who like easy listening music, This is an album you'll love.  There will be songs for download from this album in the future.  So visit often so you won't miss out.        Here's a sample: Listen to Simply Smooth click here>SIMPLY SMOOTH.
Check Out Marvin's New Song "It's Over" About Racism White Supremacy
plus
Check Out Marvin's New Theme Song For The Cleveland Cavaliers World Champs

TCC Gonna Throw Da' Hammer Down
And Marvin's New Country Music Songs
"Umm, "Umm, "Umm and My Momma's Corn Bread
We've been fans of Marvin and Willie's for years and still can't get enough of them.    We've seen them on Television, in Magazines, Newspapers as well as heard them on Radio, on many occasions.
This Video Should Make You Cry
ALSO, CHECK OUT THIS VIDEO ABOUT POLICE BRUTALITY
E-Mail: strvnmrvn@gmail.com
Stop Being a Mental Slave Read Marvin's New Books
Free To Download
For People Who Rather Listen
The Audio Books Are Here And On YouTube
Also, Two Books That Everyone Must Read
Also, Two Books That Everyone Must Read is By:
Mr. Neely Fuller
The United-Independent Compensatory Code/System/Concept                                                                      A Textbook/Workbook For Thought, Speech And/Or Action For Victims Of Racism White Supremacy)
And
The United-Independent Compensatory Code/System/Concept A Compensatory Counter-Racist Codified Word Guide……………….At:  http://producejustice.com/bio.html
Also Other Must Read Books Is By:
Dr. Frances Cress Welsing
The Isis Papers (The Keys To The Colors), And The
1970 Essay The Cress Theory Of Color-Confrontation And Racism
In The Cress Theory of Color-Confrontation and Racism, Doctor Welsing reasoned that "Racism (White Supremacy) is the local and global power system and dynamic, structured and maintained by persons who classify themselves as white, whether consciously or subconsciously determined, which consists of patterns of perception, logic, symbol formation, thought, speech, action and emotional response, as conducted simultaneously in all areas of people activity (economics, education, entertainment, labor, law, politics, religion, sex and war), for the ultimate purpose of white genetic survival and to prevent white genetic annihilation on planet Earth – a planet upon which the vast majority of people are classified as nonwhite (black, brown, red and yellow) by people with no color pigmentation, in which all of the nonwhite people are genetically dominant (in terms of skin coloration) compared to the genetic recessive white skin people".
If Police, Lawyers, Attorneys, Judges, Teachers, Preachers, Doctors, Magistrates, etc. would read Mr. Fuller and Dr. Welsing's books and stop being cowards and/or racists they could greatly help in eliminating the system of "RACISM WHITE SUPREMACY". The system of justice could serve all people (including the Very Rich) if it was only tried. Everything else has been tried and done over and over and over again to no avail. Why not at least try a System of Justice.
What have we all got to lose in simply trying it? People shouldn't have to worry about the so-called white people becoming extinct because there is no such thing as white people. White is a color not a people. There's no such thing as orange, green, lavender or maroon people etc, so what's all the fuss and fear about that these so-called white people have?
It's one thing for sure; those so-called white people are the problem for all cultures of people. Something or somebody is about to cause all of us to just about render ourselves into extinction, if we all don't change our ways pretty soon. And I mean all people not all colors because there's no such thing as Black, Asian, Chinese, Japanese, Jewish, African, Puerto Ricans, Mexicans, Italian, Irish, Indian, Greek, German, French, Egyptian, Danish, Cuban, Canadian, Bulgarian, British, Brazilian, Belgian, Australian or American, etc. people either. And that's just to name a few.
Those are just colors and cultures. There's no such thing as people being colors or colors being people. Let's get it together folks before it's to late because, very soon if it's not happening already the masses of the people will revolt and our species will become extinct. There won't be to many people left after all the killings that may occur. Money will be useless and no one will have power or authority over anyone else. The true power is the Universe and Nature itself. And when Nature and the Universe says that's enough, well I'm not a religious person but, GOD HELP US ALL!
Contact Information:
E-Mail: strvnmrvn@gmail.com
Please tour the rest of the site to learn more about JUSTICE
And Starvin Marvin's Radio Show WLTJ 1624 FM
You'll Be Glad You Did!